A workflow is a process that helps teams achieve their goals more easily by connecting the right people to the right data at the right time.
Once created, a workflow helps you organize information in an understandable and intuitive way.
But how to implement an effective workflow in your company?
A workflow usually consists of several steps, organized in 3 phases: planning, execution and review.
Planning
Design and collection of information
Receipt of requests
Prioritization and resource allocation
Execution
Development and revision
Monitoring of progress
Revision
Approval
Reports
When should I create a workflow?
You can create an effective workflow for a timed activity with an end goal, such as marketing campaigns and customer acquisition, as well as for recurring processes, such as content calendars, IT support requests, and bug tracking.
Simplifying business workflows increases efficiency and productivity, which allows you to get more tasks done quickly.
Here's how to streamline your workflows with these 5 best practices: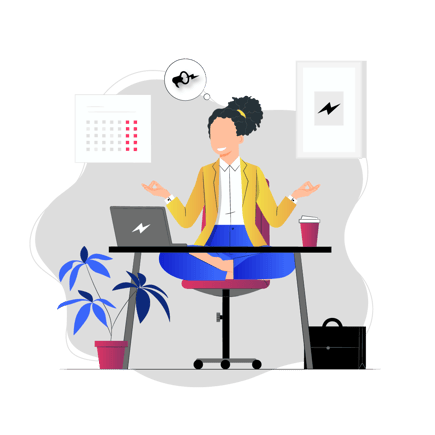 1) Manage your teams with project management platforms
Manage projects and collaborate with your team, business partners, etc. it involves a lot of work, from the planning stage to implementation and evaluation.
The project manager should evaluate modern project management tools and software for their relevance, ease of implementation and ease of learning.
Simplify project management with platforms like Trello and Asana that allow you to organize your projects and tasks, including assigned people, deadlines, etc., and see them all in one dashboard.
These tools also offer app integrations to strengthen communication, analytics, and other aspects of your team.
To further strengthen your team's collaboration, use reliable software for your video conferences, seminars and meetings for much-needed audiovisual interactions.
2) Take advantage of chatbots
Responding to multiple inquiries from potential customers can be time-consuming and a huge productivity black hole.
Respond to requests more efficiently via chatbots.
Chatbots give preset answers to common questions and converse naturally like humans do.
They can even respond instantly, 24/7.
Consumers look to chatbots as the key to fast, immediate and convenient interaction.
And thanks to the deep integration with social networks and messaging apps it can know the tastes, preferences, interests, age, language and much more of those who interact with it, allowing to offer the right solution or answer at the moment. right.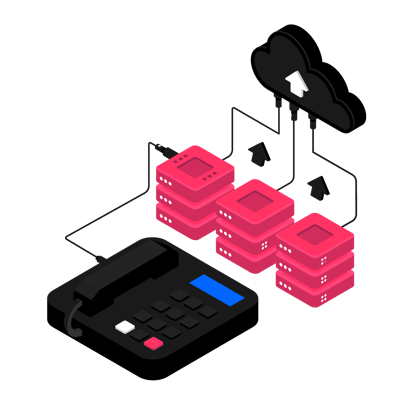 Let's say you are in the coaching industry and a visitor wants to enroll in your life coach certification programs.
Your bot can request preliminary details, such as the person's name and preferred management package, and pass them on to your agents.
If your customer asks about your services, your Intercom bot can study past chats, provide appropriate answers, and forward unrecognized questions to the right staff.
By using chatbots, you can focus less on initial inquiries and sales interactions and more on complex concerns and qualified leads.
3) Use time tracking software
Manually tracking the attendance of your staff takes immense time and effort - the more employees, the longer it will take you to complete the working hours calculation.
Simplify this task with time tracking software tools like Time Doctor.
Time Doctor monitors the total amount of working time of your staff. It also provides detailed daily and weekly reports with web and app usage, project and customer analysis, etc.
It can take screenshots at set intervals, remind employees to take breaks, invite employees to pass screen idle time, and more.
For payroll purposes, the tool allows you to verify time sheets, customize payment periods and currencies, and integrate with your payroll software systems, among other features.
With time tracking tools like Time Doctor, you make it easy to track attendance and flexibility to support payroll needs.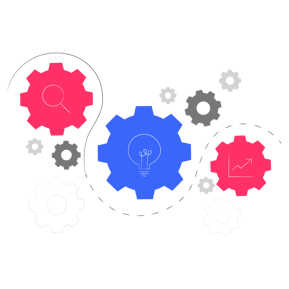 4) Automate marketing campaigns
Running marketing campaigns helps increase brand awareness and entice customers to accept your sales offers, but it also consumes time and effort.
Automate these campaigns to improve your efficiency.
Use platforms with automation capabilities, such as Hubspot or Active Campaign for email marketing.
Set up customer triggers or activities (like cart abandonment), schedule email delivery, etc.
5) Voxloud phone system
The cloud PBX is the perfect solution to communicate and work better, especially in smart working.
Thanks to the absence of wires and devices, you will not need installation technicians who will come to the office, just do everything online and activate everything in 59 seconds.
Your employees can make calls from another city or state on their own, always keeping the same number and customers will continue to see the same number.
If employees work both in and out of the office, with Voxloud they can always have their PBX with them.
Why choose the Voxloud cloud-based phone system?
Voxloud is the first cloud-based phone system that activates in 59 seconds, it is developed to improve the professional image of SMBs. It allows you to:
Answer and manage every call in one click

Working remotely saving money

Receive free assistance 7/7



Voxloud is like having another collaborator within your team. It supports you in managing the flow of calls that your company has to deal with every day. You will have the possibility to keep everything under control even when you are not physically in the company.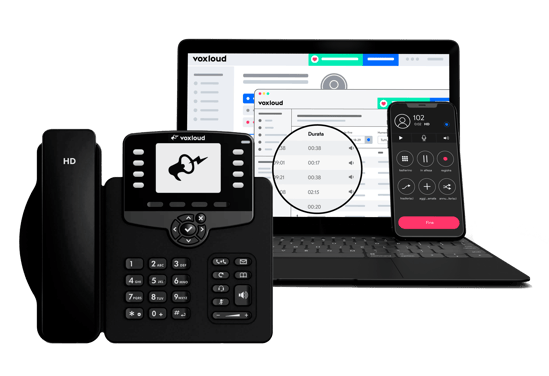 Voxloud cloud-based phone system: desktop and mobile apps, control panel and VoIP desk phone
Voxloud is for you if:
You never want to miss important calls from customers or prospects again

You no longer want to risk compromising your company's image

You no longer want to be a slave to your job
Activating it is very easy: you just need 59 seconds and your cloud-based pbx is ready to be used.
✔ Cloud-based PBX that can be activated in 59"
✔ 30 days satisfied or refunded
✔ Desktop app, mobile app and VoIP HD phones