Have you ever heard about the call recording feature in phone systems?
It is a common feature that can help you to manage better sales and customer service, with tangible benefits to your company!
Here the reason why it is a really great feature.
Has it ever happened to you to talk with a customer (or a potential one) and suddenly find out that you have lost an important detail?
The customer gives you a phone number, some information about his needs and desires or maybe it can just happen that he speaks very quickly.
You know, something can always escape and maybe we haven't been able to hear that important detail or we don't have a pen at hand to write down everything.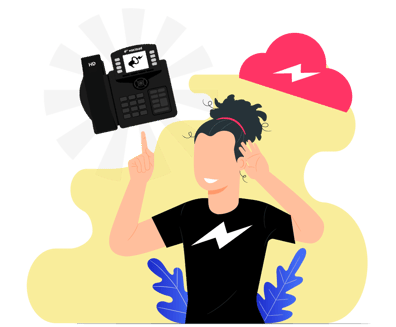 Sure, you can ask him to repeat, but it is not the best way to talk with a customer. You will be perceived as not so professional, and so your company!
That's why there is one of the most requested and useful features of Voxloud: the call recording feature that will solve all your problems right from the start.
If the customer uses incomprehensible words, you will have to ask for clarification anyway, but once the call is hooked, you will be sure not to miss a single detail.
4 reason why the call recording feature in the phone system will enhance your company
1 - Train better your team
The first contact that customers have with your company is crucial and the employees who answer the phone are undoubtedly the mirror of your brand.
The way they act, what they say and how they manage the calls can determine the success or failure of your company.
By recording your team's calls, you can get an idea of ​​how to talk to customers and take the opportunity to improve their permanent communication skills, with winning results for your business!
This is because all of your employees can take advantage of the calls recorded and so they will know how to and how to not manage a customer by phone.
It is a really good way to improve your team and your company!
Find out the call recording feature, click here!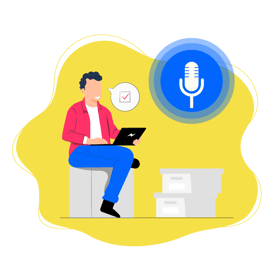 2 - Make training faster and get more time for important tasks
If you run a small business, you may need to hire someone from time to time to handle customer calls, and definitely ask to take care of the training before you "launch" them to represent your company.
But are you sure that train him with procedures, documents, case studies and meeting will be enough?
While showing is always better than true, sharing call recordings with new or temporary operators will allow you to speed up learning.
This way you will have more time to dedicate yourself to the most important activities such as sales or service.
This is why using the call recording feature is so important to train faster your team but also onboard faster your new employees.
3 - Enhance your marketing
While you are registering, if you do your job well it will happen that the customers who call your company will talk about their experience with the product or service you offer, saying maybe why they chose it, how it helped them and so on.
Know that that content will not only serve as business feedback, but could be used to create a "customer success story" useful for marketing campaigns.
After all, isn't word of mouth the best ally of any activity? Why not make the most of it?
So you can use this amazing content to improve your marketing and enrich your website, brochures and a lot more!
4 - Better feedback to improve your product
Call recordings have even more advantage than you think.
For instance, they are also great opportunities to better understand both your company's customers and prospects as well as current ones.
When you have a clear idea of ​​how your potential customers think and understand their wishes and needs, it will be much easier to set up targeted and effective marketing campaigns and more!
You will better understand how customers use your product, what could be improved, and this invaluable feedback can be translated into products and services that more effectively meet customer expectations.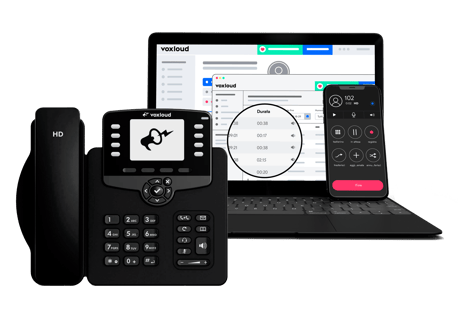 Voxloud cloud-based phone system: control panel, desk VoIP phone and mobile app
Why you should move to a Cloud Phone System?
Now try to think about everything you would have lost without call recording and everything to do with this simple function:
- More efficient customer service
- Better internal training
- More performing sales activities
- More detailed information database
And you, dear entrepreneur, are you ready to increase your business by recording your calls through the Cloud phone system?
And above all, would you know how to choose the right one for your company?
There are some advantages that only a Cloud Phone System can give to your company, and no physical phone system can have.
The advantages of a Cloud Phone System:
You will work and manage calls from everywhere
You won't need anymore tech support to make one single change in the PBX
You won't need any hardware
You will have one single phone bill and the same price, forever
Why choose the Voxloud cloud-based phone system?
Voxloud is the first cloud-based phone system that activates in 59 seconds, it is developed to improve the professional image of SMBs. It allows you to:
Answer and manage every call in one click

Working remotely saving money

Receive free assistance 7/7



Voxloud is like having another collaborator within your team. It supports you in managing the flow of calls that your company has to deal with every day. You will have the possibility to keep everything under control even when you are not physically in the company.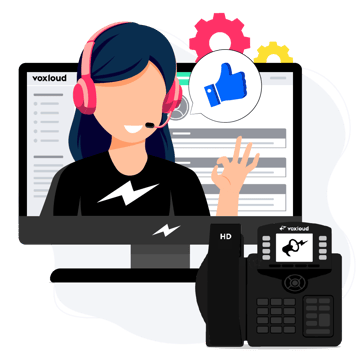 Voxloud is for you if:
You never want to miss important calls from customers or prospects again

You no longer want to risk compromising your company's image

You no longer want to be a slave to your job
Activating it is very easy: you just need 59 seconds and your cloud-based pbx is ready to be used.
✔ Cloud-based PBX that can be activated in 59"
✔ 30 days satisfied or refunded
✔ Desktop app, mobile app and VoIP HD phones
Best regards,