As much as digital applications assist us in daily work, having too many tools can hinder more than help.
Having to start up and then switch between a dozen different programs simply to log data can quickly take you out of your workflow, all while wasting hours every week.
With a cloud-based PBX, however, work processes become far simpler. Integrations for your digital PBX mean no more switching from window to window or new startups.
Instead, all your tools are accessible inside one window — or even outside the office — earning you back time and energy every single day.
But that's just the start of how your productivity can improve with integrations. To give you a better sense of how, here are some of the most helpful integrations an enterprise-grade PBX can get.
5 PBX integrations that will help you be more productive!
1 - Online Calendars
When you sync your digital calendar to your PBX, it becomes even simpler to manage all your meetings.
With an integration, your online calendar will automatically set the status on your PBX to "busy," "away" or "online" depending on if you're free or in a scheduled event.
Plus, you'll be able to simply click a link within calendar alerts to instantly join conferences and calls right from your browser instead of a separate program.
2 - Enterprise Resource Planning (ERPs)
In addition to financial and product information, ERPs feature a great deal of contact data for internal colleagues, external partners and customers.
By integrating your ERP with your PBX, you can call or message any of those contacts with just a few clicks, all directly in your main calling interface.
As if that didn't make things convenient enough, an integration also makes it possible to add contacts to your ERP directly through the PBX window, even during a call.
3 - Analytics Software
Routing analytics systems into your PBX will grant you immediate insight into how customers are responding to your sales efforts.
Depending on the type of integration, you can see data surrounding calls, online ads or website traffic all from within your main communications window.
Better still, these applications will often give you detailed analysis about how effectively these various communications hold customers' interest.

Voxloud analytics export feature
4 - Customer Relationship Management (CRMs)
Even more than ERPs, CRMs handle a great deal of information about customers, from telephone numbers to how they're responding to your sales campaigns.
As such, linking your CRM to your PBX creates a ton of convenience by letting you dial contacts, update their sales profiles and log case data all within one window.
With advanced integrations, AI can even handle most parts of data entry automatically simply by tracking your sales calls.
👉 Discover all the Voxloud integrations here
5 - Virtual Desktops
Using integrations, it's possible to use the PBX and communications interface from your main office computers from any device, ensuring you can always take work on the go.
Once you set up a virtual desktop, a simple login will allow you to operate the PBX just the same as if you were in your office — even if you don't have any of your main communications software installed on your other device.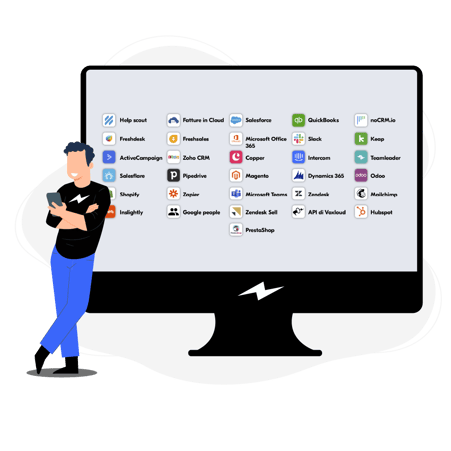 Voxloud Integrations
These are just a few sample integrations possible with a cloud PBX. With a system by Voxloud, all these above combinations and more can be implemented quickly and efficiently.
On top of working with CRMs like Salesforce or accounting software like Quickbooks, Voxloud syncs with a wide range of sales, email and process management.
That ensures all your most important tools are accessible within your main communications hub, without fuss or complications.
Voxloud cloud-based phone system: what are the advantages for you?
Voxloud is the first cloud-based phone system that activates in 59 seconds, it is developed to improve the professional image of SMBs. It allows you to:
Answer and manage every call in one click

Working remotely saving money

Receive free assistance 7/7



Voxloud is like having another collaborator within your team. It supports you in managing the flow of calls that your company has to deal with every day. You will have the possibility to keep everything under control even when you are not physically in the company.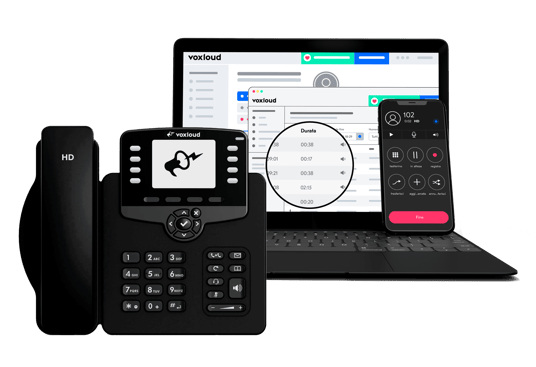 Voxloud cloud-based phone system: desktop and mobile apps, control panel and VoIP desk phone
Voxloud is for you if:
You never want to miss important calls from customers or prospects again

You no longer want to risk compromising your company's image

You no longer want to be a slave to your job
Activating it is very easy: you just need 59 seconds and your cloud-based pbx is ready to be used.
✔ Cloud-based PBX that can be activated in 59"
✔ 30 days satisfied or refunded
✔ Desktop app, mobile app and VoIP HD phones
Best regards,