With how lightning-fast the market moves today, everyone's looking for extra ways to boost their business operations.
We've all heard about how the most successful businesses have moved to the cloud, especially for their communications systems.
And the reason for that is simple: when PBXs move to a cloud-hosted model, companies gain significant advantages that speed up everyday procedures.
If you haven't made the jump from your on-premise phone system to one hosted in the cloud, then read on — here, you'll learn just eight of the most important business-accelerating capabilities you'll gain.
1 - Simpler controls
In the cloud, users spend far less time fussing and fretting over how to use their phone system — meaning they spend far more time simply using it.
That's because, with a hosted setup, PBXs feature far more intuitive interfaces and controls compared to their on-premise counterparts.
That translates to a shorter training period when making the switch and far more productive work days as employees enjoy their straightforward control panels directly on their computers.
2 - Auto attendant
Having to manually forward incoming callers to the right person isn't just frustrating for your customers — it also wastes a lot of time employees could have spent on their normal jobs.
When you use a cloud-hosted PBX, though, calls can instantly reach the intended recipient thanks to the convenient auto attendant feature.
And even though on-premise PBXs can provide this capability, a hosted system makes auto attendant incredibly easy to implement with a more streamlined interface and tons of additional options for how to route incoming calls.
3 - Failovers & simpler maintenance
When you're on a phone call of any kind, the last thing you want is to have your PBX glitch up or, worse, crash completely.
Fortunately, in the cloud, fixing a PBX is as easy as asking an IT expert to enter the settings online and fix it — even if that expert is working outside of your office — because they can always access the core of your system through the internet.
In fact, cloud PBXs feature automatic failover, meaning in case of a crash they will instantly switch to a different server and bring you back online.
That extra security may not immediately seem like something your company needs, but if a crash or error occurs, you'll be glad you have a fast and easy way to get back to usual business operations.
4 - Mobile apps
Given that employees are happier and more productive when they can choose where they work from, it's no wonder working remotely is more popular than ever.
And with a cloud-based PBX, every employee can work remotely with ease thanks to mobile apps.
These applications bring them all the functions and convenience of the VoIP system in the office, right in the palm of their hand — meaning that without any extra fuss, effort or time they can connect to colleagues and customers alike right away.
👉 Find out more about the Voxloud cloud-based pbx mobile apps here
5 - Synced presence indicators
Collaboration is what makes companies move, and nothing slows down that cooperation like not knowing if they can get a hold of a colleague.
Fortunately, on a cloud-based PBX, everyone can see who's available (and who's not) at a glance thanks to synced presence indicators.
No matter if the employee is on a desktop app, their mobile device or even a compatible deskphone, simply clicking the status indicator will show the entire team they can or can't be reached for a clearer — and therefore faster — collaboration flow.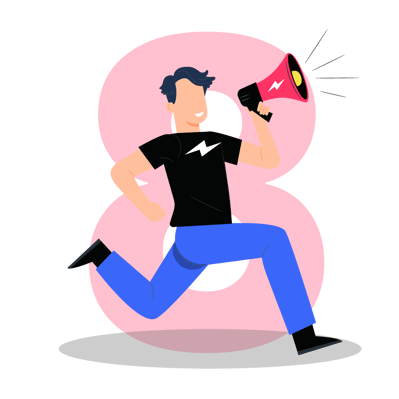 6 - Click-to-call
Especially useful for anyone with lots of daily calls to make (such as a sales representative or company recruiter), hosted systems will give employees a "click-to-call" feature.
Using this, users can simply click on a phone number online, and their system will instantly call it over their smartphone or laptop.
With no room for misdialing and a far reduced time to call out, this makes for a quick and easy way to improve business operations.
👉 Discover here all the Voxloud cloud-based PBX features
7 - Voicemail transcriptions
When voicemails accumulate, it's never easy to listen to them all in a timely manner. But here, too, a cloud-based PBX comes to the rescue with automatic message transcription.
With this setup, voicemails can be read and then transcribed by your phone, giving you a written message delivered directly to your email inbox.
That makes catching up on your calls as fast and easy as reading a few emails, saving everyone at your company loads of time every day.
👉 Find out more about the Voicemail feature in Voxloud
8 - Call analytics
Using an old-fashioned phone system, it's hard to get details on your company's calls, which makes it difficult to see where your bottlenecks and weak points lie.
However, with a PBX hosted in the cloud, a full suite of call statistics and analytics are right at your fingertips.
Thanks to a fully digital setup, a cloud-based system ensures every interaction — from calls answered to instant messages exchanged — can be tracked, added up and measured to help you identify where your most and least efficient points in communications are.
From there, it becomes that much easier to determine how you can speed up your workplace activities.
Voxloud cloud-based phone system: what are the advantages for you?
Voxloud is the first cloud-based phone system that activates in 59 seconds, it is developed to improve the professional image of SMBs. It allows you to:
Answer and manage every call in one click

Working remotely saving money

Receive free assistance 7/7



Voxloud is like having another collaborator within your team. It supports you in managing the flow of calls that your company has to deal with every day. You will have the possibility to keep everything under control even when you are not physically in the company.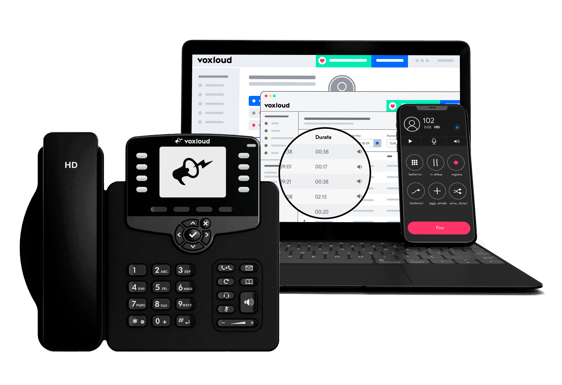 Voxloud cloud-based phone system: desktop and mobile apps, control panel and VoIP desk phone
Voxloud is for you if:
You never want to miss important calls from customers or prospects again

You no longer want to risk compromising your company's image

You no longer want to be a slave to your job
Activating it is very easy: you just need 59 seconds and your cloud-based pbx is ready to be used.
✔ Cloud-based PBX that can be activated in 59"
✔ 30 days satisfied or refunded
✔ Desktop app, mobile app and VoIP HD phones
Best regards,