The only thing better than getting improvements in your business processes is getting them right away. And fortunately, speed is one of the biggest built-in features of switching to a cloud-based PBX.
We don't just mean how quickly you'll get your new service in switching, either (though that is a great addition!).
Actually, many of the biggest benefits of a phone system in the cloud come almost instantly, giving you the means to improve your organization without a lengthy timeline.
That translates to more productivity — and more money earned — that you get to enjoy nearly overnight.
Sound too good to be true?
Check out these 6 instant benefits from using a cloud-based PBX to learn why a new phone system is one good thing you don't have to wait for.
1 - Working from home
Given that having a work-from-home policy today leads to greater employee loyalty, lowered expenses and even higher productivity, it's a no-brainer to have it when possible.
And with a PBX in the cloud, it's simpler than ever to roll out a remote-working plan as soon as you've made the switch.
Hosting a PBX in the cloud means it's possible to access it from any location — all you need is an internet connection.
While connected to the cloud, employees can make or receive calls from anywhere all while using the same numbers they have in the office, ensuring communications continue as normal even when enjoying the comfort of working remotely.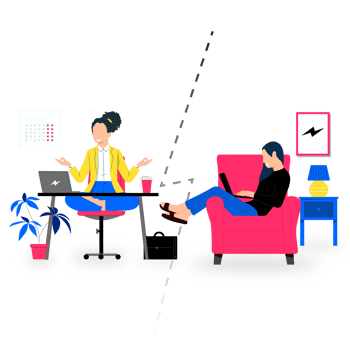 2 - Easier-to-use interfaces
Once you've switched to the cloud, you don't have to fret over long training sessions or overcoming any learning curves.
Hosted phone systems are designed with usability chiefly in mind, and their graphical interfaces are highly intuitive for users of any skill level.
That better usability doesn't just mean your team will have an easy time getting used to the system — with less time learning how to use features or troubleshooting, they'll have more time to communicate, collaborate and finish projects more efficiently.
3 - Flexible scaling
When your company achieves growth, it's always best to be able to expand quickly.
With a traditional PBX, the only way to get more employees on your phone system is to add more cabling, more installations and more costly hardware.
But in the cloud?
There, growth is as quick and easy as adding more accounts in your PBX software. No additional hardware is needed outside of your new staff's laptops, and with just a few clicks, they'll be all set with phone numbers, video calling capabilities and more.
4 - Cost savings
The easiest way to save on phone hardware is to ditch it altogether. And with a cloud system, that's exactly what you're able to do.
Since your cloud-based PBX can be accessed over any internet connected device, there's no need for additional hardware to get users connected: so long as they have a laptop or smartphone, they can handle voice and video calls right away.
Plus, with lower on-average operating costs from passing maintenance off to your PBX provider, you'll also save on a simple month-to-month basis.
5 - More functionality
Simply put, PBXs in the cloud do more.
Features like transcribing voicemails, call recording, custom hold music and auto attendants are just the tip of the iceberg — you'll also have access to a huge range of integrations with your existing software, making your most important programs like CRMs and ERPs usable directly through your PBX interface.
Compared to staying on premises, there's just no question that in the cloud, your whole team instantly gets the tools to get more done more quickly.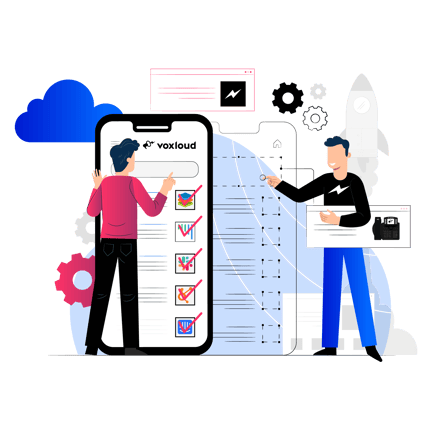 6 - Global employee reach
Who says your talent pool has to stay in your backyard?
Since users on a cloud-based phone system can be added from anywhere, by switching to one you can instantly hire and onboard freelancers or even full time staff from anyplace in the world.
Better still, since cloud PBXs come with that global reach right from their installation, you'll be able to bring those remote collaborators online as soon as your new system is up and running, quite literally giving you a world of new talent instantly.
Upgrading your business communication tools is a quick and easy way to bring up your productivity as well.
With a Voxloud PBX, you'll get cloud-based telephony, instant messaging, voicemail and more available from any location via online apps.
That's in addition to the plentiful software integrations Voxloud has on offer, letting you create a personalized work setup that puts your most important digital tools in one place — all while being intuitive enough to use with minimal training.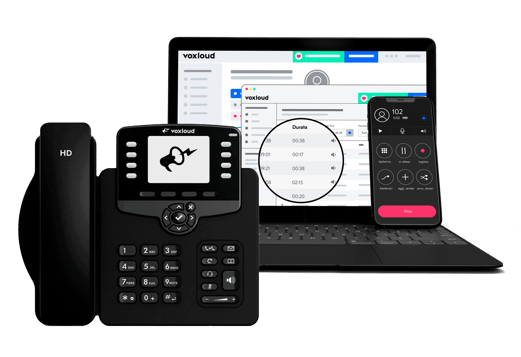 Voxloud Cloud-Based Phone System: what are the advantages for you?
Just to give an idea, here is a preview of the advantages of Voxloud phone system:
You can work anywhere without geographical restrictions
Activation in 59 seconds, without technicians or installers
Organize team video conferences
No hidden costs
Do you want to find out more and see what Voxloud can do for you?
Click here and talk to one of our Specialists 👇
Best regards,