Even years after the height of lockdowns, remote working is still all the rage.
But anyone who's tried planning a remote workforce from the ground up can tell you it's not an easy process.
Now that everyone's working from different places, how do you make sure it's easy to communicate, let alone collaborate on in-depth projects?
With traditional tools, it can seem hopeless to maintain a productive workplace when everyone is in their own office.
However, that's if you only use traditional tools.
By now, digital collaboration solutions make it easier than ever to work alongside colleagues no matter where they are — no matter if that's in the office, at a coffee shop or in the comfort of their own home.
Read on to learn the five most important tools to make sure any team can properly communicate and collaborate, however far apart they may be.
1 - Online task boards
One of the most critical parts of collaboration is to keep everyone on the same page about project updates and status.
And fortunately, those project boards you may have been using in the office have an online equivalent in task boards.
Also called Kanban boards, task boards make it easy to organize and assign out projects or even individual tasks within them.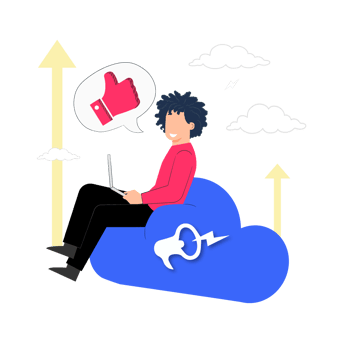 As your team makes progress, they can also update a project's status to give everyone a sense of how far along it's come.
Combine all that with the fact that task boards also can be sorted by a wide variety of factors, like teams involved to what components they affect, and you end up with an indispensable tool for both working on projects and managing them on a remote team.
2 - Online whiteboards
Of course, task boards are mainly useful for tracking updates to projects.
To carry out that progress, it's important to have a means of gathering ideas in real time — and that's where online whiteboards come in.
The same way your team might use a physical whiteboard in the office, online whiteboards let multiple users write, draw and plan simultaneously within a shared online space.
This ensures that, even while your team is apart, they can still share ideas and contribute to projects in real time, no matter what stage the work is at.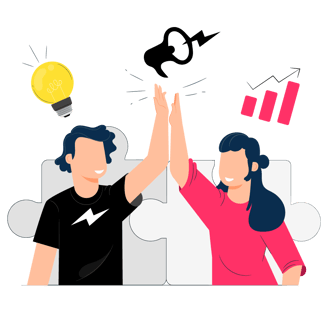 3 - Video conferencing
Speaking of real-time collaboration, a remote team typically can't get a full sense of one another's presence and input by collaborating through voice calls or phone conferences alone.
Far better is to be able to see one another through video conferences, especially ones that are built directly into your main chat and VoIP phone system for simpler access.
👉 Find out more on the videoconference feature in Voxloud here
Once you have a video conferencing system in place, make sure you use it regularly for catchup meetings, brainstorming sessions, reviews and all other meetings you'd normally handle in the office.
Seeing everyone's face while collaborating remotely will better bridge the physical gap between staff and add that crucial element of humanity to your teamwork.
4 - Screen sharing
However, collaboration also benefits from actively seeing work from your colleagues' digital workspaces, which is why remote teams also need a screen sharing capability.
These perform exactly what it says on the tin: when the feature is turned on during a video conference, it provides a live video feed of the sharer's desktop screen, giving the rest of the time a view of anything from presentations to in-progress documents.
With screen sharing on hand during your video meetings, your team will always be just a click away from presenting results, gathering initial ideas into a document or any point in-between.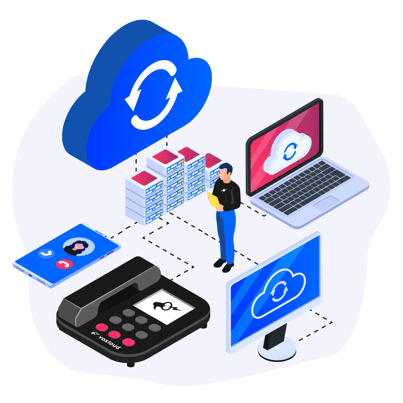 5 - Cloud-based telephony
But one flaw with all these tools is that, taken one by one, they can feel spread apart and unorganized.
To optimize your remote team's experience and maximize efficiency, it's also critical to use a cloud-based telephony system as your main interface for collaboration.
Properly set up, a cloud-based phone system becomes your team's primary page for nearly all communications, be it over voice, video or messaging.
And because it's a web-powered application, your cloud PBX can be accessed from any web-connected device — in the best cases, even right from your web browser, not a downloaded app.
Especially when a team is spread out and largely working on their own, it pays to have simple and convenient ways to reach out.
And the fact is, there's no simpler way of handling those communications than the unified features of a cloud-based phone system.
Upgrading your business communication tools is a quick and easy way to bring up your productivity as well.
With a Voxloud PBX, you'll get cloud-based telephony, instant messaging, voicemail and more available from any location via online apps.
That's in addition to the plentiful software integrations Voxloud has on offer, letting you create a personalized work setup that puts your most important digital tools in one place — all while being intuitive enough to use with minimal training.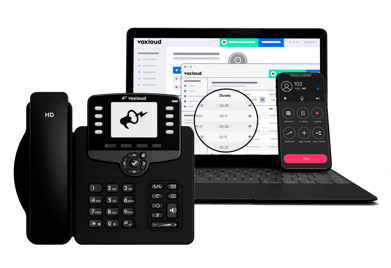 Voxloud Cloud-Based Phone System: what are the advantages for you?
Just to give an idea, here is a preview of the advantages of Voxloud phone system:
You can work anywhere without geographical restrictions
Activation in 59 seconds, without technicians or installers
Organize team video conferences
No hidden costs
Do you want to find out more and see what Voxloud can do for you?
Click here and talk to one of our Specialists 👇
Best regards,