Replacing your physical, hardware-based PBX with a cloud-hosted setup is a big investment, and may even seem like a worrying change.
Given that your phone system is going to be hosted externally — rather than at your own organization — it's easy to feel anxious about how the shift will affect internal processes.
But that begs the question: What differences will a cloud PBX really bring?
Of course, the big one is that you'll no longer have physical hardware to power your telephony service.
Beyond that, however, you'll see a lot of changes in your communications — all of them for the better.
Keep reading to discover the 7 biggest ways a cloud-based PBX differs from a physical one and what each difference means for your business processes.
With physical PBXs, adding or removing users takes time and even money because doing so means manipulating physical connections, typically requiring on-site technicians.
But in the cloud?
There, adding or removing users is only a matter of making a few changes to your PBX's main operating software, saving your organization significant time, effort and money any time it has to change in size.
Better still, being in the cloud means customizing your PBX plan is simpler than ever, as changing any details from your apps to your dial plan can be done without physical setups.
👉 Voxloud offers you more than 50 integrations with CRMs, Help Desk and much more. Find out all the integrations here!
2 - Built-in failover
If an on-site PBX crashes, there's typically no other way to make or receive phone calls at the organization.
Meanwhile, using a PBX in the cloud gives you automatic failover: a system where, if one PBX fails, the cloud system will automatically switch over to an operating one until the original is fixed.
Simply put, using a cloud-based PBX will ensure you have more security and uptime compared to a physical one.
3 - More intuitive interfaces
While making changes to a physical PBX typically is so complex it requires an IT expert, changing a cloud-based PBX is far simpler.
The reason why again comes down to cloud PBXs using software rather than hardware: instead of changing raw lines of hardware-operating code, a cloud PBX can usually be manipulated through a user-friendly graphical interface.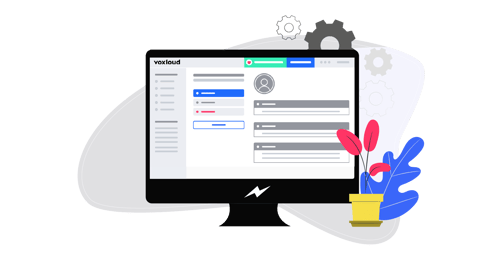 In many cases, end-users can change the functions and behavior of their cloud-based PBX entirely on their own, directly from their laptops.
4 - Lower costs
If you're not using physical hardware for your PBX, you're not paying extra upfront costs for installation or ownership.
That translates to significantly lower expenses on your phone system both at the time of your upgrade and the years afterward, regardless of how many users you put on the system.
5 - Easier maintenance
Think about all the components of a physical PBX that need to be maintained and updated: on top of the main PBX itself, there are cables, connections, outlets and plenty more.
That's not even getting into when your entire system becomes obsolete and the whole thing needs to be physically replaced.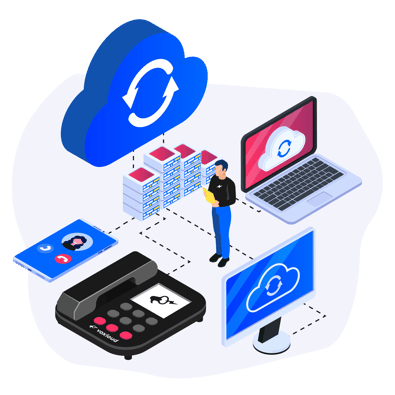 But because a cloud-based PBX has no on-premises hardware, you no longer have to carry out any of that maintenance or end-of-life planning. Instead, what little upkeep remains falls to your PBX provider, leaving you with only stable telephony service rather than constant hardware check-ups.
And in the event that your PBX needs a system overhaul, your provider will
simply apply a software update
, ensuring your solution is never out of date.
6 - Greater security
The fact is, a cloud-based PBX has far more security features than a physical one thanks to its hosted model.
For one thing, cloud PBXs feature more sophisticated protocols, such as built-in encryption and 24/7 call monitoring.
For another, PBXs in the cloud will receive and install security updates as soon as they're deployed, reducing the window in which hackers can exploit vulnerabilities in your telephony system.
What's more, these security measures are implemented automatically in a cloud PBX, which keeps your organization safer far more easily.
7 - Remote working and operation
Working outside of the office has caught on big time in recent years, and with a cloud-based PBX, it's easier than ever to work anywhere.
Because a cloud PBX works through apps, users can do everything they normally would on a physical PBX (make and receive calls, send messages, check their voicemail, etc.) from any location.
In the cloud
, there's no need to be stuck to your office chair to access and operate your PBX — instead, any internet-connected laptop or smartphone can instantly connect you to that solution.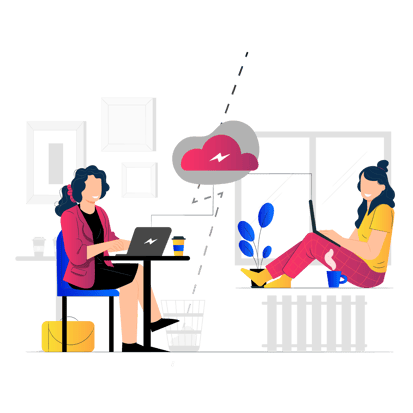 Upgrading your business communication tools is a quick and easy way to bring up your productivity as well.
With a Voxloud PBX, you'll get cloud-based telephony, instant messaging, voicemail and more available from any location via online apps.
That's in addition to the plentiful software integrations Voxloud has on offer, letting you create a personalized work setup that puts your most important digital tools in one place — all while being intuitive enough to use with minimal training.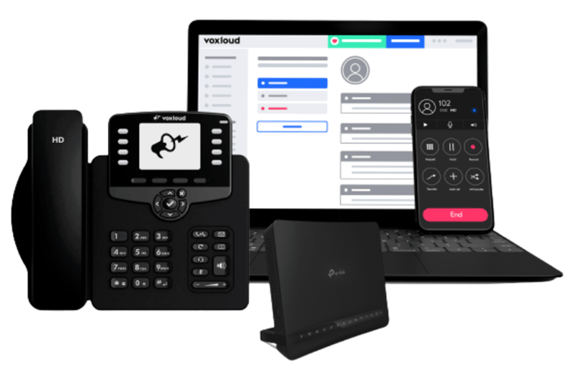 Voxloud Cloud-Based Phone System: what are the advantages for you?
Just to give an idea, here is a preview of the advantages of Voxloud phone system:
You can work anywhere without geographical restrictions
Activation in 59 seconds, without technicians or installers
Organize team video conferences
No hidden costs
Do you want to find out more and see what Voxloud can do for you?
Click here and talk to one of our Specialists 👇
Best regards,