When you hear the word "cloud", you might think of it as "complicated", but this is not the truth!

Physical phone systems have a high cost and require a tiring implementation process. The Voxloud cloud phone system not only has a transparent cost with no surprises, it can also be customized on the number of extensions used and allows you to be installed in just 59 seconds.

We have come up with 6 cloud phone system benefits for which you should immediately switch your physical phone system and move to the cloud!
1. Ideal for remote workers

The cloud phone system is perfect for employees who work remotely but also for office workers, allowing them to make and receive calls anywhere, anytime.
Your employees can handle calls from everywhere, always keeping the same number.

2. Customized to fit your needs

The Voxloud cloud phone system makes you completely autonomous because you don't need to call customer service to make every little change to your phone system, but you have full control and can easily customize it whenever you want.

Just go to the control panel to customize your phone experience or that of your entire company.

And this customization isn't just for changing the ringtone or voicemail message. Your employees can change settings in seconds, such as simultaneous or serial ringtones, call groups, etc.


3. Flexibility

With Voxloud you will never miss a call. With your landline, cordless phone and smartphone app you will be able to make / receive calls to / from your main number and work from anywhere in the world. Voxloud allows you to call, and video call from any device, on Apple, Windows or Android.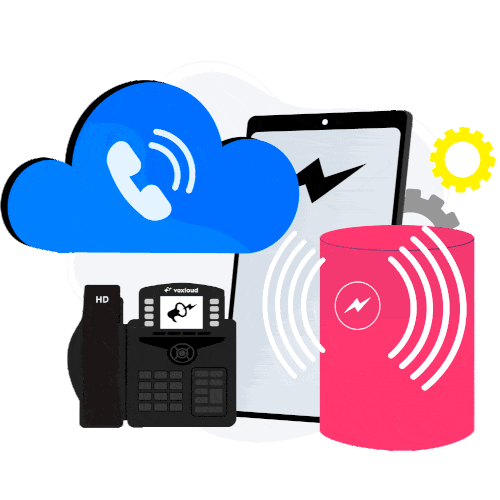 4. Easier to move

If you are thinking of changing offices, or if the company is moving, you will find that your Voxloud cloud phone system will not need any particular changes.

Moving a cloud phone system from an old to a new office, for example, is much simpler and less cumbersome than a physical one.

So, if you are thinking of relocating a company or starting a new business, a cloud PBX can definitely save you money, get up and running very quickly, and make things a lot easier for you and your employees.

5. Backups are important

A key feature of almost all cloud phone system is that they provide secure access and data backup. Therefore, retrieving your call history, recorded conversations, voicemail messages, and even user or system profile versions is always simple and very fast.

6. Scalable for your business

A system is said to be scalable when it is possible to add further features without having to modify its fundamental characteristics. Additional lines, user deletion and account changes can be done via the control panel in one click.

The phone system is the perfect solution to communicate and work better, especially in remote working. Thanks to the absence of wires and servers, you will not need installation technicians who will come to the office, just do everything online and activate the phone system in 59 seconds.

Cloud technology will also allow you to work from wherever you want and make the most of the remote working regime.

Just to give an idea, here is a preview of the advantages of our phone system:


- You can work anywhere without geographical restrictions
- Activation in 59 seconds, without the use of technicians
- Organize video conferences with one click
- You only pay for the features you use
- No hidden costs

Are you trying to switch to the Cloud phone system? Contact us to move forward in this evolving digital age.