The world is running faster and faster, and to keep up with the needs of increasingly demanding customers, companies must be fast and precise in handling them.
But we know, in the company we are always in a hurry and there are always a thousand things to do. Focusing on the tasks to be performed and supporting customers every day can be complex.
So how to be able to do more and faster?
In this article, we have collected 10 hacks that you can put into practice right away to be more productive, do more tasks and better. So you can dedicate yourself with even more attention to customers and make your business grow more and more!
10 best productivity hacks to become a tasks champion
1 - Never used the (10+2)*5 technique?
Don't worry, it's not hard math!
This technique was created by Merlin Mann (author of 43folders.com, source here) and it will boost your productivity at a higher level, for sure!
Basically it means that you have to work hard for 10 minutes with deeply focus and then make a 2 minutes break. Then, repart the process 5 time to cover a whole hour of work.
This hack is really useful when you have a lot of little tasks that require attention.
2 - Use colours to organize
Clear up your desk and get rid of anything that can be a distraction.
Both the physycal desktop and the digital one. According to a Science Daily study, red was discovered to heighten attention to details while blue was found to inspire creativity.
These hues are not only good for your brain, but they are also aesthetically beautiful, so surround your workspace with them.
3 - Use lists and create a break agenda
Make a list of everything you want to do during your break, including web browsing, email checking, snacking, taking selfies, checking Facebook and Twitter - anything.
Similar to the (10+2)*5 hack, fit these in between work hours, but with the difference that you only give them 20 minutes daily. You'll learn to use your break time effectively eventually. You are doing duties while taking breaks to engage in enjoyable activities.
4 - Work from remote? Use the outside world!
Don't disrupt the cozy atmosphere of your home as a favor to yourself. If you must work on a demanding project, do it in a coffee shop or library.
Changing the environment and the different things around you will help to get more focus and close that stressful project.
5 - A lot of tasks? Set a detailed timetable!
The tendency of delaying is difficult to quit, just like any other habit. Change your habit to something else. When a task is given to you, schedule a time for each stage.
Imagine you have a sizable research assignment. Here is an example schedule:
9:00 – 9:10 am – Set up all your tools, browser tabs, emails, coffee, etc..
9:10 – 10:00 am – Deep focus on a specific task
10:00 – 10:45 am – Look through existing files
10:45 – 11:00 am – Break time!
11:00 – 12:00 pm – Outline the research report
Remember, the best trick for getting things done is to set deadlines. Even though the deadline has gone, placing a deadline on a task creates time pressure.
6 - Make your desk gadget-free
According to a study by Kleiner Perkins Caufield and Byers, people check their phones 150 times per day, and having your phone close to you just creates a spark to this habit.
If you're trying to focus on your work, removing your mobile devices and gadgets can help. Notifications, calls, and text messages can be eliminated, and you won't be constantly interrupted.
This can help you focus on your work.
7 - Prepare before go to bed the next day
Before heading off into oblivion, prepare everything you need for the next day. This should take you about 15 minutes, which will save you more time for coffee in the morning.
Do you want to spin your class in the morning? Pack your gym clothes, shoes, and socks so you can take them with you when you leave.
Create a checklist to make sure you don't miss anything.You can also pre-pack your food and just grab one before leaving.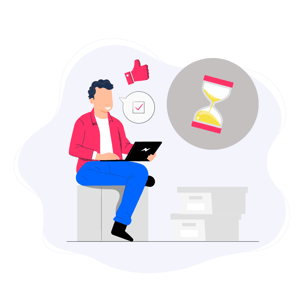 8 - Fast workout in the morning to get you more productive
Exercise has been shown to increase productivity and stimulate the release of endorphins or "happy hormones."
Take a walk outdoors to get warm and prepared for the day.
Don't feel like running outside today? Take a walk on the treadmill. A treadmill is a great investment because it can be used for different fitness activities, like running and metabolic training.
9 - Set-up Mini Tasks
If you get a large project, split it into minitasks. Create a checklist and start with something simple to complete.
Do you have an article to write? Start with the title and the first sentence.
Or do you need to create a visual presentation? Spend 15 minutes on the outline, take a 5 minute coffee break and finish the first two slides.
Achieving something, no matter how small, gives you a sense of accomplishment.
10 - Use a good cloud-based phone system to optimize time
The cloud PBX is the perfect solution to communicate and work better, especially in remote working.
Thanks to the absence of wires and devices, you will not need installation technicians who will come to the office, just do everything online and activate everything in 59 seconds.
Your employees can make calls from another city or state on their own, always keeping the same number and customers will continue to see the same number.
If employees work both in and out of the office, with Voxloud they can always have their PBX with them.
Just to give an idea, here is a preview of the advantages of our phone system:
You can work anywhere without geographical restrictions
Activation in 59 seconds, without technicians or installers
Organize team video conferences
No hidden costs
Do you finally want to enter the era of the cloud and digitalization?
Click here and talk to one of our experts👇
Best regards,